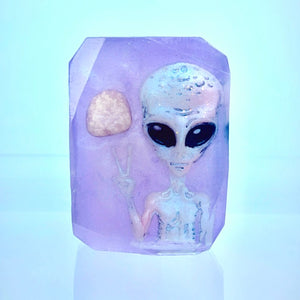 Hold on to your tinfoil hats! Aliens are real...... but we could not care less. We have a lot going on right now. 😂  I couldn't help to take this opportunity to turn this into one of our limited-edition Halloween bars. Unbothered is embedded with a Lepidolite Crystal, considered the "Peace stone"  because it is thought to have nurturing and calming properties. Lepidolite aids in overcoming emotional or mental dependency.  Instantly soothing it's easy to immediately connect with the calming nature of Lepidolite. Promotes inner peace and harmony.
One of the best mood stabilizers in the world of crystals, the Lepidolite crystal contains a high amount of lithium, which is also used in anti-anxiety medication. Its side effects include a sense of calm and tranquility during times of stress and chaos.  Helps with emotional balance, stress relief and anxiety. It's an essential amulet to have at hand during times of challenging change or when working to overcome anxious moods and climbing tension.
"I maintain my center through the storms of life"
Scented with a blend of passionfruit nectar and nectarine with notes of mango, lemon apple, and plumeria. Bonus points, the little zen alien dude glows in the dark, when activated by light for 30 seconds. 
Net wt 5 oz

Ingredients: Sorbitol, Propylene Glycol, Sodium Laureth Sulfate, Stearic Acid, Water, Sodium Hydroxide, Myristic Acid, Sodium Cocoyl Isethionate, Glycerin, Lauric Acid, (biodegradeable) glitter, kaolin clay, purple mica, white mica, pink mica, activated charcoal, fo