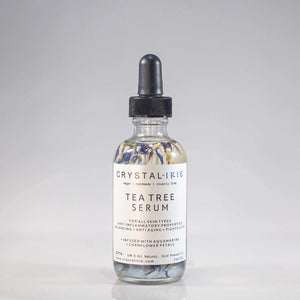 FOR ALL SKIN TYPES.
Our new Tea Tree serum infused with blue cornflower petals and aquamarine crystals. Formulated for all skin types. Meant to absorb quickly, leaves your skin moisturized, not greasy. Silky.

Made with Sunflower oil, Safflower, Fractionated Coconut oil, Grapeseed oil, Vitamin e, and Tea Tree oil. All these ingredients were chosen to combat specific skin issues. Every oil is chosen is rated 0-1 on the comedogenic scale which rates how likely it is to clog your pores.
AQUAMARINE CRYSTALS
infused with Aquamarine, the stone of courage. It is calming soothing and cleansing. It inspires truth, trust and letting go. It helps heal emotional trauma, It's calming energies reduce stress and quiet the mind. It can invoke the tolerance of others. Clarifies perception sharpens the intellect and clears confusion. Useful for closure on all levels.
TEA TREE
Tea Tree has been around forever. So many amazing benefits, anti-inflammatory, antiseptic, anti-microbial properties. It helps to prevent acne, reduces scars, and hyperpigmentation. Leaving you with smooth clear skin and toned skin.
Heals dry skin, reduces itching and flaking, treats eczema. Its antiseptic properties help combat oily skin. Anti-inflammatory properties helps heal painful and irritated skin. The antimicrobial properties help calm redness and swelling helps prevent acne scarring. 

CORNFLOWER PETALS
Cornflower water can help soothe tired, puffy, irritated eyes. Cornflower has natural anti-inflammatory properties that help to soothe sensitive skin. Cornflower is both a skin soother and a skin conditioner. It brightens the complexion and is a natural astringent that works to tone your skin. Great for dark spots, discoloration or hyperpigmentation. Has inflammatory properties that help with acne.
Ingredients: Sunflower oil, Safflower oil, vitamin e, grapeseed oil, tea tree oil
Shelf life: 1 year
Net wt 2oz
The product is packaged in a glass bottle. We encourage you to re-use the bottle once the product is finished.