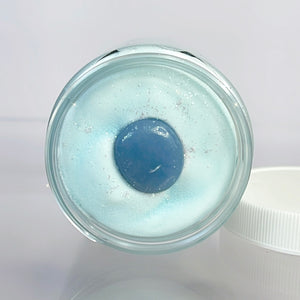 A thick, creamy body butter whipped with botanical extracts, Shea Butter + Cocoa Butter, coconut oil and Arrowroot powder for a super deep quench without leaving that greasy feeling.  
Scented in refreshing  Coconut water notes splashes over an island blend of cactus flower, agave, and exotic jasmine.

Infused with  Angelite, this crystal improves spiritual awareness. It promotes self-expression while dispelling fear, anger, and anxiety. Allows for greater spiritual growth, enhanced intuition, and clearer communication. Encourages peace, promotes compassion. Angelite is a stone that promotes spiritual communication with your higher self, and with the spiritual realm. Angelite is the perfect stone for those on a journey toward deeper shades of awakening.
"I am open to receiving support from my guides and angels"
This 100% vegan, super-rich and creamy natural Body Butter is a treat for the skin. It melts straight in to leave skin feeling soft and silky smooth. 
Body butter is proven to be more moisturizing for skin than lotion. Typically, It's thicker than lotions and is extra effective at rejuvenating dry skin. The best time to apply body butter is just after you've showered. Pat dry with a clean towel.
To use: Apply desired amount on the palm of your hands and rub together until butter has warmed up. Spread evenly until it's fully absorbed. Allow 10 minutes for butter to fully absorb into your skin and enjoy. 😉 
Net Weight 4oz
Ingredients: Shea Butter, Cocoa Butter, Coconut Oil, Arrowroot Powder, Mica, fo