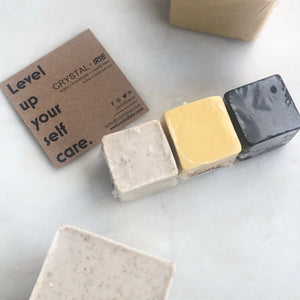 This mini block sampler pack includes our Facial Charcoal Detox, Amaretto Blossom and Turmeric Detox. Perfect for those who want to try all bars and test and see which bar is better suited for your skins needs. Made with all natural ingredients. For Oily skin, combination skin and sensitive skin. Extra free sample included. It does'nt get any better than this.
Activated Charcoal draws bacteria, poisons, chemicals and dirt helping you to achieve a flawless complexion.
Volcanic Ash is a natural exfoliant, which helps cleanse the skin and protect it while It removes dead skin cells, detoxifies and cleans pores. 
Kaolin Clay helps the skin retain moisture and absorb extra oil. The detoxifying properties of Kaolin Clay make it the best choice for acne prone skin.
Oatmeal and its natural oil coat, moisturizes, protects and gently cleanses, while correcting the pH of itchy or inflamed skin.
Walnut Shell Powder is a natural fine grain exfoliant used to scrub away dirt, oil, and dead skin. 
Turmeric is also known to reduce the appearance of dark spots. This combination of uses may help your face clear up from acne breakouts.
Bentonite Clay is a nutrient rich clay that helps absorb sweat naturally, giving soap a smooth silky lather. Perfect for very oily skin. 
Ingredients: Sorbitol, Propylene Glycol, Sodium Laureth Sulfate, Stearic Acid, Purified Water, Sodium Hydroxide, Myristic Acid, Sodium Cocoyl Isethionate, Glycerin, Lauric Acid, Shea Butter,Fragrance