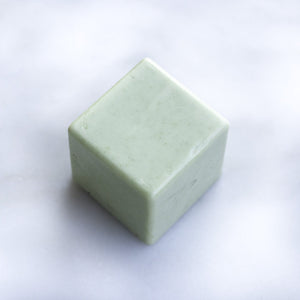 This bar is made with Spinach, Bentonite Clay and Activated Charcoal. It has an extra creaminess to it and adds moisture to the skin. This soap is great for oily or acne prone skin, but can be used for all skin types as well. 
Scented with the perfect blend of Lemongrass and coconut which just adds to the soothing, relaxing effect this bar brings.
Bentonite Clay is a nutrient rich clay that helps absorb sweat naturally, giving soap a smooth silky lather. It has strong oil absorbing properties, and is able to absorb more than its mass in water. This makes bentonite clay perfect for oily skin. 
Activated Charcoal draws bacteria, poisons, chemicals, dirt and other micro-particles to the surface of skin, helping you to achieve a flawless complexion.
Spinach Powder is rich in chlorophyll, antioxidants, and Vitamins A, C, E, K, B2, and B6. Due to their antioxidant abilities, are especially great for your skin. It contains antioxidants that fight against all types of skin problems.
Net wt 5 oz 
Ingredients: Sorbitol, Propylene Glycol, Sodium Laureth Sulfate, Stearic Acid, Purified Water, Sodium Hydroxide, Myristic Acid, Sodium Cocoyl Isethionate, Glycerin, Lauric Acid, Shea Butter, Activated Charcoal, Bentonite Clay, Spinach Powder, Lemongrass eo, coconut fo