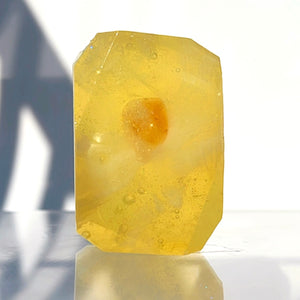 Embedded with an Citrine, a natural tranquilizer. This bar helps to relieve stress and strain, soothes irritability, balances mood swings, dispels anger, rage, fear, and anxiety.
"We outside" yes that's the official name of this gorgeous bright ray of sunshine bar. Infused with citrine. Citrine is known as the "Happy stone" it is known to bring bright energy, success and prosperity. It attracts wealth, abundance and joy. It helps you envision and manifest your goals by sparking your imagination and strengthening your will.
Wrap yourself in the comfort of warm cashmere musk, sweet vanilla and soft woods and put citrine's fiery energy to work for you and tell the world "Bish, i got dis!"
Net wt 3 oz
Ingredients: Sorbitol, Propylene Glycol, Sodium Laureth Sulfate, Stearic Acid, Water, Sodium Hydroxide, Myristic Acid, Sodium Cocoyl Isethionate, Glycerin, Lauric Acid,  Kaolin Clay, purple pigment, white mica, (Biodegradable)Glitter, FO